Landfill and Transfer Stations
Mount Cooee Landfill
Council operates the only sanitary landfill in the district at Mount Cooee on the outskirts of Balclutha, on the Kaitangata Highway. Open almost every day of the year, the Mount Cooee landfill accepts most types of waste as well as recyclables (including free glass drop off). As of July 2012 a 50% discount is given on greenwaste when it is diverted from the tip-face (i.e placed aside for mulching/composting).
Mount Cooee is closed Easter Friday, Christmas Day, Boxing Day, New Year's Day, 2 January and the morning of ANZAC Day.
Opening Hours at Mt Cooee Landfill
8.00am to 4.30pm Monday to Friday
10.00am to 4.30pm Saturday/Sunday.
Labour Day - 8.00am to 4.30pm
Good Friday, Christmas Day, Boxing Day, New Year's Day, January 2 - CLOSED
ANZAC Day - CLOSED until 1.30pm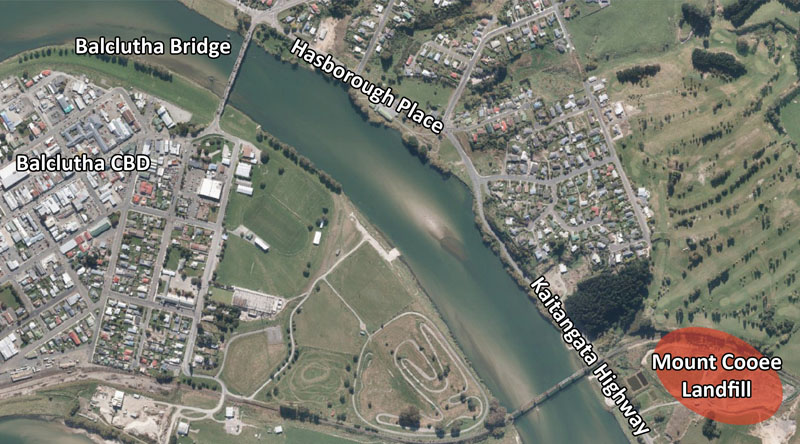 Landfill Charges
Most residential customers pay a fixed charge based on the size of their load. All waste above and beyond a car or trailer (or 250kg) is charged by weight. Council sets the fees and charges annually.
Payment options include EFTPOS and cash.
Commercial operators can pay by account by prior arrangement. For landfill charges, see our Fees and Charges page
To apply for credit download the Mt Cooee Users Credit Application Form
Waste disposal and recycling at the Landfill

Mt Cooee accepts general waste, special waste, green waste and recyclables. Conditions do apply e.g. recyclables and greenwaste must be of accepted types only and special waste must be accompanied with a permit issued by Council.
Approved greenwaste includes lawn clippings, hedge clippings, leaves, tree trimmings with branches less than 150mm diameter, and garden weeds. Small amounts of soil associated with plant roots etc, is acceptable.
Accepted recyclables include rigid plastic containers (number 1, 2 and 5), paper, flattened cardboard, aluminium tins and steel cans (Mixed).
Lids, triggers and pumps need to be removed from plastic bottles, pottles and containers.
Glass bottles and jars (separate from other recyclables) are accepted for reuse only; these are crushed and used for roading and drainage throughout the landfill.
Greenwaste and recyclables that do not meet these criteria will be treated as general waste.
Large quantities of clean fill are not accepted and special wastes (difficult or hazardous) are accepted only with a Special Waste Permit.
If you can recycle it in your yellow bin, then you can recycle it at Mt Cooee. That includes clean, rigid plastic containers, paper and cardboard, clean aluminium, steel cans and tins. These recyclables can be mixed.
Transfer Stations

Council operates waste transfer stations throughout the district with facilities provided at Clinton, Lawrence, Milton, MacLennan, Owaka, Tapanui and Taieri Mouth.
Transfer stations in Clinton, Lawrence, Milton, MacLennan, Owaka and Tapanui accept general household waste (in reasonable quantities), recyclables (glass is accepted for free but is currently not recycled). Taieri Mouth only accepts recycling (not including glass).
Opening hours for each transfer stations vary, with the busier facilities open longer and more often, and some of the smaller facilities operating on a 'key' basis.
Locations and Opening Hours of transfer stations

Transfer Station Charges
Transfer station customers are charged based on their waste volume. Payment options include cash. Council sets the fees and charges annually. See our Fees and Charges page for the latest costs.
Types of waste at transfer stations
Transfer stations are primarily provided for the disposal of household waste. Wastes that are prohibited from wheelie bins are also prohibited from transfer stations and customers with significant loads of waste will be directed to Mt Cooee Landfill.
The larger transfer stations (Clinton, Lawrence, Milton, Owaka and Tapanui) accept recyclables for free. If you can recycle it in your yellow bin, you can recycle it at one of these five transfer stations. You can also drop off glass for free, but it must be separated out from your other recyclables as it is currently not recycled at the transfer stations as there in no funding to transport it separately to Mt Cooee for reuse.
Beaumont transfer station application for key
E-Waste
Electronic Waste is accepted at Mt Cooee. This is a joint initiative between Council and Cargill Enterprises of Dunedin. You can drop off your e-waste for a fee, and it will delivered to Cargill Enterprises in Dunedin where they will dismantle it and recycle whatever they can. This is another Council driven project to divert waste from our landfill as per the goals in our Long Term Plan.
New Zealand doesn't have safe recycling facilities to handle computer monitors and TVs so they are sent off- shore, usually to Singapore, Korea or Australia to authenticated recyclers, under hazardous waste transport Basel Permits. The charges help pay for the ethical recycling of our e-waste. To view Council's E-Waste Recycling prices visit our Fees and Charges page:
Special Waste
Special wastes are commercial or significant quantities of waste that are not hazardous but require special handling during disposal. Examples include sludges, decontaminated soil and odorous materials.
These materials cannot generally be accepted at transfer stations and will need to be transported directly to the landfill by arrangement and must be accompanied with a special waste permit (see below).
Hazardous Waste

It is the responsibility of the user of any hazardous materials to ensure they have a safe disposal option if they need to dispose of any leftover hazardous material after they have finished the job.
Wheelie bins and transfer stations must not be used for hazardous waste disposal.
The nearest place for safe disposal of hazardous wastes is located at Green Island, Dunedin.
Drop off of household Special and Hazardous Wastes: can be done at the Green Island Transfer Station for a nominal charge (refer to Green Island landfill charges).This is a service for small household quantities and not for commercial customers. Please advise the booth operators and place in the designated drop-off area near the transfer station pit.
Contact the Landfill Engineer at DCC on 03 477 4000 early for more information, guidance and/or advice with regards to your disposal options. Note that incoming accepted materials may require prior notification of arrival for disposal a minimum of 5 working days beforehand.
Hazardous waste is mainly liquid or solid (but can be gaseous) and can be ignitable, explosive, corrosive, reactive, toxic, infectious or radioactive.
Some examples include:
asbestos
gas bottles
solvents e.g. turpentine, and solvent-based paints
oil and other petroleum products
lead acid batteries
industrial chemicals e.g. timber treatment or metal processing waste, redundant or spoiled stocks of processing or laboratory chemicals
household chemicals including redundant medicines and garden sprays
agricultural chemical waste and containers
explosives including fireworks, flares and ammunition
mercury
medical sharps
Hazardous waste does not include wood painted with lead-based paint, treated timber, household batteries (dry cell or gel batteries) or household smoke detectors. Although these materials contain potentially hazardous elements, the risk to human health and the environment is small and they may be disposed of through your domestic service or at a transfer station.
Reporting Hazardous Waste
Otago Regional Council Pollution Hotline - 0800 800 033
If you're concerned about an instance of pollution in Clutha District, contact the Otago Regional Council. Use the 'Pollution Hotline' to report pollution to air, land or water. Your call will be dealt with in complete confidence.
Timely reporting makes a huge difference to the effectiveness of the Otago Regional Council's investigations. Otago is a big region, and they depend on the public to let them know when pollution occurs.
Report incidents while they are occurring or as soon as possible after they occur. For the Otago Regional Council to take action, they will need evidence. It's extremely difficult to find the source of the problem if the signs of pollution have disappeared by the time they get there.
Calls to the Pollution Hotline will be dealt with in complete confidence.
Contaminated Soil
Contaminated soil can be soil contaminated by petroleum hydrocarbons such as petrol, oil or diesel. It needs special handling and must not be disposed of as cleanfill. Contaminated soil can be disposed of at Green Island Landfill in Dunedin. Arrangements must be made for disposal by contacting the Landfill Engineer at DCC on 03 477 4000.
The WorkSafe NZ and Environmental Protection Authority websites can provide specific information.