Landfill and Transfer Stations
Opening Hours
Mt Cooee Landfill
8.00am to 4.30pm Monday to Friday
10.00am to 4.30pm Saturday/Sunday.
Transfer Stations
Beaumont 24/7 - key system registered through Council Beaumont transfer station application for key
Clinton 10am-12pm Sundays
Clydevale: Trial – rubbish and recycling bins accessible 27/4
Lawrence 10am-12pm Saturdays
Maclennan 1pm - 3pm Saturdays
Milton 1.30-3.30pm Friday, Saturday and Sunday
Owaka 1-3pm Sundays
Taieri Mouth Trial - recycling bins accessible 24/7
Tapanui 1.30-3.30pm Friday and Saturdays
Mount Cooee Landfill
Council operates the only sanitary landfill in the district at Mount Cooee on the outskirts of Balclutha, on the Kaitangata Highway. Open almost every day of the year, the Mount Cooee landfill accepts most types of waste as well as recyclables (including free glass drop off). As of July 2012 a 50% discount is given on greenwaste when it is diverted from the tip-face (i.e placed aside for mulching/composting).
Mount Cooee is closed Easter Friday, Christmas Day, Boxing Day, New Year's Day, 2 January and the morning of ANZAC Day.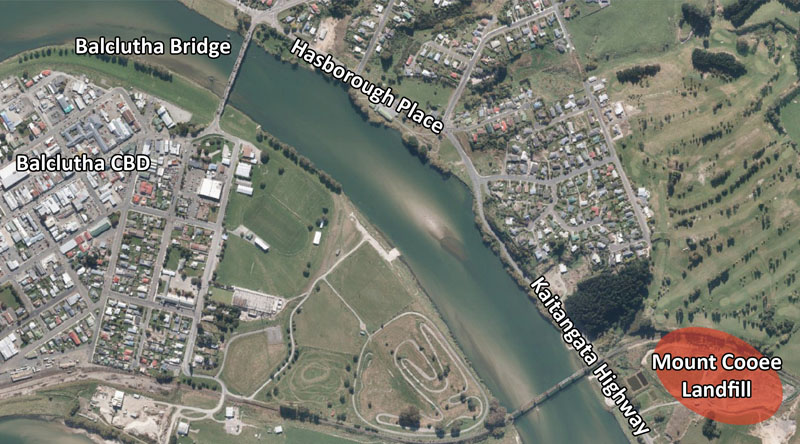 Landfill Charges
Most residential customers pay a fixed charge based on the size of their load. All waste above and beyond a car or trailer (or 250kg) is charged by weight. Council sets the fees and charges annually.
Payment options include EFTPOS, Cash and Cheque.
Commercial operators can pay by account by prior arrangement. For landfill charges, see our Fees and Charges page
To apply for credit download the Mt Cooee Users Credit Application Form
Waste disposal and recycling at the Landfill

Mt Cooee accepts general waste, special waste, green waste and recyclables. Conditions do apply e.g. recyclables and greenwaste must be of accepted types only and special waste must be accompanied with a permit issued by Council.
Approved greenwaste includes lawn clippings, hedge clippings, leaves, tree trimmings with branches less than 150mm diameter, and garden weeds. Small amounts of soil associated with plant roots etc, is acceptable.
Accepted recyclables include rigid plastic containers (number 1, 2 and 5), paper, flattened cardboard, aluminium tins and steel cans (Mixed).
Lids, triggers and pumps need to be removed from plastic bottles, pottles and containers.
Glass bottles and jars (separate from other recyclables) are accepted for reuse only; these are crushed and used for roading and drainage throughout the landfill.
Greenwaste and recyclables that do not meet these criteria will be treated as general waste.
Large quantities of clean fill are not accepted and special wastes (difficult or hazardous) are accepted only with a Special Waste Permit.
If you can recycle it in your yellow bin, then you can recycle it at Mt Cooee. That includes clean, rigid plastic containers, paper and cardboard, clean aluminium, steel cans and tins. These recyclables can be mixed.
E-Waste
From December 2016, Electronic Waste is being accepted at Mt Cooee. This is a joint initiative between Council and Cargill Enterprises of Dunedin. You can drop off your e-waste for a fee, and it will delivered to Cargill Enterprises in Dunedin where they will dismantle it and recycle whatever they can. This is another Council driven project to divert waste from our landfill as per the goals in our Long Term Plan.
E-Waste Recycling Prices:
New Zealand doesn't have safe recycling facilities to handle computer monitors and TVs so they are sent off- shore, usually to Singapore, Korea or Australia to authenticated recyclers, under hazardous waste transport Basel Permits. The charges help pay for the ethical recycling of our e-waste. To view Council's E-Waste Recycling prices visit our Fees and Charges page:
More E-Waste information: the e-Day event is no longer funded by Central Government and, as a result, no longer takes place. There is a preference for a long term solution which enables e-Waste to be recycled year round. Council is working to encourage greater producer responsibility for e-waste, which would mean the costs to dispose of your TV or computer for example would already be paid and you wouldn't be faced with paying a fee when you have finished with it.
Known as Product Stewardship' it provides a permanent long-term solution where the costs of e-waste collection, transport and recycling are met by the electronic equipment producers and suppliers, the upshot of this is the cost becomes part of the purchase price. This means there are stronger drivers to design a product that is easier and cheaper to repair and recycle and the right collection and recycling facilities are available to deal with your end-of-life electronic devices. Council is backing this approach in Central Government consultations on this issue.
When you buy a new electronic device, ask the supplier if they will take your old electronic device for recycling. Some distributors are starting to realise this is an add-on service they can offer customers. For example, The Warehouse 'Great TV Take Back' was very successful and resulted in about 25,000 TVs being diverted from the waste stream nationwide. Consumers can create the demand for recycling through their purchasing decisions, and place the responsibility for recycling on the producers where it belongs.
Transfer Stations

Council operates waste transfer stations throughout the district with facilities provided at Clinton, Clydevale, Lawrence, Milton, Maclennan, Owaka, Papatowai, Tapanui and Taieri Mouth.
All our transfer stations accept general household waste (in reasonable quantities) and some of the larger facilities accept recyclables (glass is accepted for free but is currently not recycled). Opening hours for each transfer station vary, with the busier facilities open longer and more often, and some of the smaller facilities operating on a 'key' basis.
Transfer station customers are charged based on their waste volume. Payment options include cash and cheque. Council sets the fees and charges annually. See our Fees and Charges page for the latest costs.
Types of waste at transfer stations
Transfer stations are primarily provided for the disposal of household waste. Wastes that are prohibited from wheelie bins are also prohibited from transfer stations and customers with significant loads of waste will be directed to Mt Cooee Landfill.
The larger transfer stations (Clinton, Lawrence, Milton, Owaka and Tapanui) accept recyclables for free. If you can recycle it in your yellow bin, you can recycle it at one of these five transfer stations. You can also drop off glass for, but it must be separated out from your other recyclables as it is currently not recycled at the transfer stations as there in no funding to transport it separately to Mt Cooee for reuse.
Locations of transfer stations
Beaumont transfer station application for key