Our Place Milton Community Plan
We've set a direction to promote living and working in the Clutha District. But, what does that actually mean for Milton?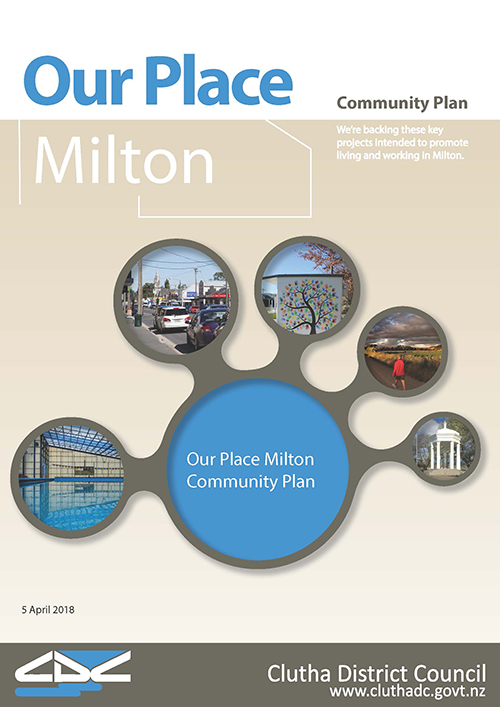 The Our Place Milton final community plan summarises the projects and the aims of the community plan, and is a useful reference for people wanting to know more.
This plan was developed based on the feedback received from various community consultation in 2018.
Councillors took that feedback and are focusing on the following priority projects:
Development in and around Milton
Walking and cycling
Community and visitor facilities
Parks and reserves, including Greater Taylor Park, Moore Park and Fairfax Cemetery.
Obviously, it will take a little time and detailed planning work but working with the community will be key to the success of these ideas.
Some of these projects are likely to be community-led rather than Council led. We'd like to encourage anyone who is interested in being part of the process to get in touch with us. For example, perhaps, you're part of an already established community group that would like to get on board with a certain project.
The "Our Place Milton" community plan determines the projects and priorities for the community, as well as help put Council's Living and Working and Economic Development Strategies into action. The ideas centre on what Council can do with our key facilities and how we can work with the community to make things happen.
Council has made it very clear that projects can generally proceed where financially the project is rates neutral, but where a project would be seeking additional Council funding, it would go through a due process for consultation. Council has built into each project, a requirement to consider "easy wins" as a priority.
Community Facilities: Pool, Library, Service Centre
In the Annual Plan 2019/20, Council consulted on three options for the development of Milton's community facilities. Descriptions of these three options can be read here.
After considering feedback Council resolved to include a budget of $290,000 in the Annual Plan 2019/20 for further planning and development work for Option 3 (build a combined pool, service centre library facility).
Related Information